Gift Towers | Pralines | Premium Pecans | View Cart | Secure Check Out

To find your favorite products, roll your mouse over the "Shop Categories" and "Gift Selections" menus above.  From the drop down, select the category of your choice.
Our family-owned business began in beautiful Savannah, Georgia way back in 1981. Our homemade candies are made fresh daily using the freshest creams, butter and sugar. We specialize in pecan delicacies, traditional Southern candy and gift baskets perfect for family, friends and clients any time of year.
Locals, tourists and loyal customers around the country all agree, for quality products, superior service, and the very best in Pecan and Southern Candies, there is no better choice than Savannah Sweets. Your complete satisfaction is guaranteed. Enjoy!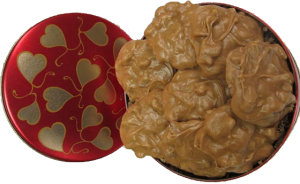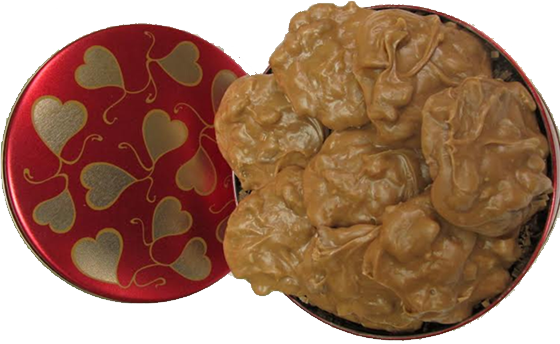 Valentine Praline Gift Tin
Decorative heart tin filled with eight 2oz Traditional Pralines.
Item 2015  $26.95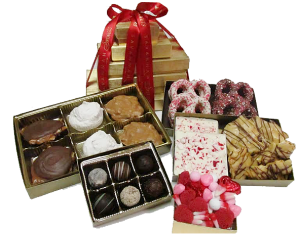 Valentine 5 Box Gift Tower
This 5 box tower contains Traditional Praline, Divinity and Milk Chocolate Caramel Paws in the bottom box followed by Milk and Pearl White Chocolate Valentine Pretzels. The third box contains Peppermint Bark and Dark Chocolate drizzled Peanut Brittle. The fourth is a 6 piece assortment of Truffles and last a Deluxe Valentine Mix.
Item 2007    $ 39.95

Three decorative heart tins towered and filled with Glazed Pecans, Valentine Milk and Pearl White covered Pretzel Knots, Milk and Pearl White covered Oreos, Sugar & Spice Pecans, Traditional Pralines, Milk Chocolate Paws and Divinity.
Item 2030   $42.95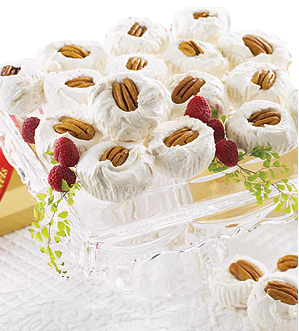 Divinity Gift Box 18 oz
A heavenly confection that's simply divine. Each smooth and creamy piece is topped with a fresh, mammoth pecan half. So delicious, you'll find it virtually impossible to enjoy just one.
ITEM ID: 356 – $19.95
We take Granny Smith Apples and dip them in our creamy caramel then coat them in Milk and Pearl White Chocolate and decorate them with our Valentine mix of Jimmies, Non Pariels and Hearts.
Item 2010   $26.95

Can't Decide on a Gift? Contact us at 1.800.423.1314 about our Gift Certificates. Minimum $25.00, in $5.00 increments, please.