Gift Towers | Pralines | Premium Pecans | View Cart | Secure Check Out


Scroll Down For Suggested Father's Day Gifts Below!
Our family-owned business began in beautiful Savannah, Georgia way back in 1981. Our homemade candies are made fresh daily using the freshest creams, butter and sugar. We specialize in pecan delicacies, traditional Southern candy and gift baskets perfect for family, friends and clients any time of year.
Locals, tourists and loyal customers around the country all agree, for quality products, superior service, and the very best in Pecan and Southern Candies, there is no better choice than Savannah Sweets. Your complete satisfaction is guaranteed. Enjoy!
To find your favorites, roll your mouse over the "Shop Categories" and "Gift Selections" menus above.  From the drop down, select the category of your choice.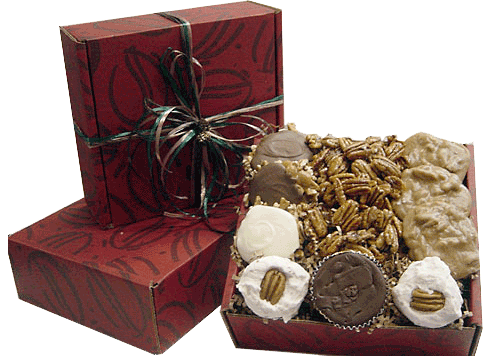 Southern Classic

Sure to please anyone, this box includes all of our most popular selections. Each includes Glazed Pecans, Pralines, Milk Chocolate Pecan Paw, Pearl White Pecan Paw, Divinity and Chocoloate Fudge.
ITEM ID: 1222 – $29.95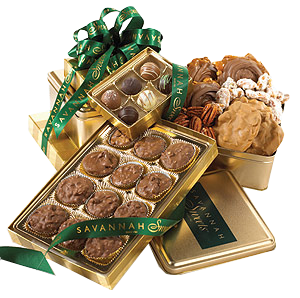 Favorite Flavors Gift Tower
These are a few of our favorite things.  And once you taste them, we're sure they'll become your favorites too.  Our candymakers stack this tower with a dozen Milk Chocolate Pecan Clusters, followed by a tin with a Praline, Milk Chocolate Pecan Paw™, Glazed Pecans and Sugar & Spice Pecans, then top it all off with a box of Assorted Truffles.
ITEM ID: 604 – $34.95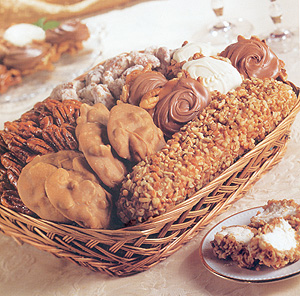 Grab Basket
Serves 6-7 – It's easy to see why this basket is one of our most popular gifts year in and year out. We call it a grab basket because so many hands will be reaching in to claim their favorite treat. Perfect for gift-giving, holiday get-togethers, and office parties, each basket holds a large assortment of Glazed Pecans, Sugar & Spice Pecans, Pralines, Chocolate Pecan Paws™ and a Pecan Log Roll.
ITEM ID: 378 – $59.95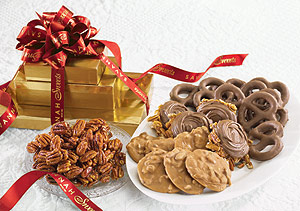 Trio of Temptations Gift Tower

ToIt's a towering trio of treats everyone will love. Tower starts with a box of Milk Chocolate Pecan Paws™ and Pralines, then adds a box of Milk Chocolate Pretzels, and is topped off with a box of Glazed Pecans. From top to bottom, it's one tasteful treat after another! Towers may vary in style May through September. This is a perishable product and requires an extra $5 in shipping charges May through September.
ITEM ID: 358 – $24.95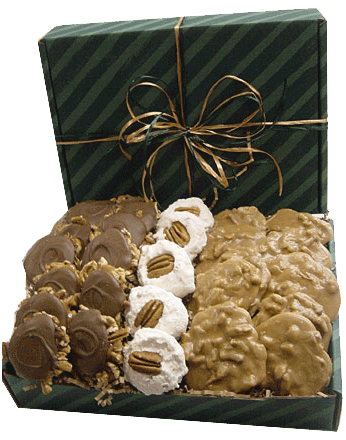 Classic
This gift box is perfect for entertaining at any office or holiday party. This give box includes our most favorite selections, Pralines, Milk Chocolate Pecan Paws and Divinity.
ITEM ID: 1221 – $39.95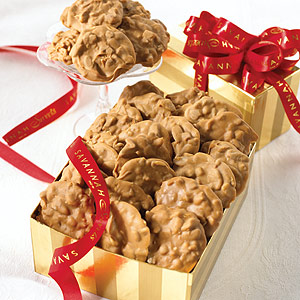 Two and One Quarter lb Traditional Praline Gift Box 18 Pralines
Our traditional Praline candy is among the very best. Our secret? Large, fresh pecan halves mixed with the finest, natural cream, butter and sugar. Order two boxes…one to give, one to enjoy. Pralines are 2 oz. each
ITEM ID: 301 – $43.95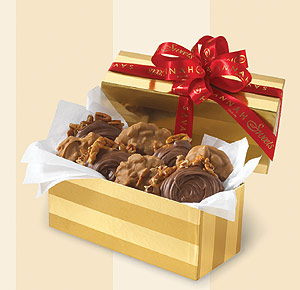 These two traditional favorites are sure to please anyone! This gift box includes our famous Traditional Pralines and Milk Chocolate Covered Pecan Paws
One and One Quarter lb Candy Lover's Combo
ITEM ID: 600 – $23.95

Two and One Quarter lb Candy Lover's Combo
ITEM ID: 601 – $41.95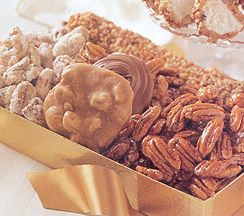 Taste of the South Gold Gift Box 1-lb
Can't Decide on a Gift? Contact us at 912-355-3539 about our Gift Certificates. Minimum $25.00, in $5.00 increments, please.