HAPPY EASTER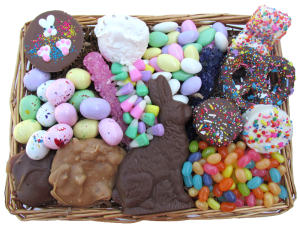 Adult Easter Basket
Adults love the Easter Bunny too! A wicker basket filled with a Traditional Praline, Milk Chocolate Pecan Paw, Divinity, Rock Candy, Milk Chocolate Bunny, Assorted Jordan Almonds, Speckled Malt Balls, Assorted Spring Jelly Bellies, Milk and Pearl White covered Oreos, Chocolate covered pretzels, Bunny Corn and a Easter Peanut Butter Cup.
411 Small Adult Easter Basket 29.95

412 Large Adult Easter Basket 44.95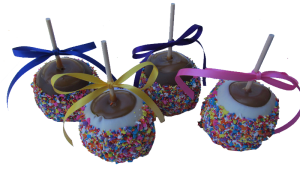 Easter Apple Gift Box
Our Easter Apples will remind you of when you were a kid. We take Granny Smith Apples, dip them in our creamy caramel and then decorate them in our own Easter. 2 Pearl White and 2 Milk Chocolate apples are individually wrapped and place in a gift box.
408 Easter Apple Gift Box $27.95

To find your favorite products, roll your mouse over the "Shop Categories" and "Gift Selections" menus above.  From the drop down, select the category of your choice.
Our family-owned business began in beautiful Savannah, Georgia way back in 1981. Our homemade candies are made fresh daily using the freshest creams, butter and sugar. We specialize in pecan delicacies, traditional Southern candy and gift baskets perfect for family, friends and clients any time of year.
Locals, tourists and loyal customers around the country all agree, for quality products, superior service, and the very best in Pecan and Southern Candies, there is no better choice than Savannah Sweets. Your complete satisfaction is guaranteed. Enjoy!
Featured Products: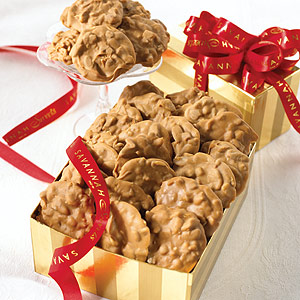 Two and One Quarter lb Traditional Praline Gift Box 18 Pralines
Our traditional Praline candy is among the very best. Our secret? Large, fresh pecan halves mixed with the finest, natural cream, butter and sugar. Order two boxes…one to give, one to enjoy. Pralines are 2 oz. each
ITEM ID: 301 – $41.96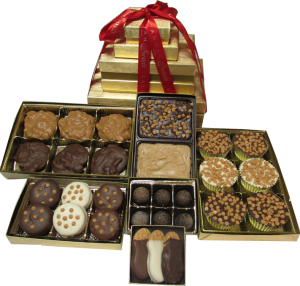 Peanut Butter Lovers 6 Box Gift Tower
If peanut butter is your thing then this tower is built for you.  We start with 2 each  Milk, Pearl White and Dark Chocolate Peanut Butter Cups topped with Peanut Butter and Peanut Butter Chocolate Pralines.  The next box has our homemade creamy Peanut Butter and Peanut Butter Chocolate Fudge. Then we add a layer of 2 each Milk, Pearl White and Dark Chocolate Peanut Butter Ritz Crackers followed by Peanut Butter Truffles and last Chocolate dipped Nutter Butters.  Now that's a lot of Peanut Butter.
Item 630   $56.95

Can't Decide on a Gift? Contact us at 1.800.423.1314 about our Gift Certificates. Minimum $25.00, in $5.00 increments, please.